"Ok, now it's time for the team building activities". Cue mass panic and thoughts turning to a swift exit. Sounds familiar right? That's because we've all been there. The thing is though, it doesn't have to be that way. The times are changing!
Team building training has evolved at a phenomenal pace over the last few years, and a significant component of that progression has been in team building activities. No longer just embarrassment-inducing tasks with no real tangible benefit, team building activities have advanced into enjoyable pursuits that offer genuinely beneficial takeaways to the participants.
In recent years, numerous team building activities have been designed that participants the world over are actually enjoying. Learning experiences that encourage and reward participation. A new wave of team building activities was created to strengthen both specific and multiple skills. Here we have compiled a list of team building activities that achieve a specific objective that can be traced to the End Game that you want to achieve from the event.
So, without further ado, let's dive into the list!
1. Virtual Team Building Activities
Here we have curated some of our top virtual team building activities to bring remote teams closer.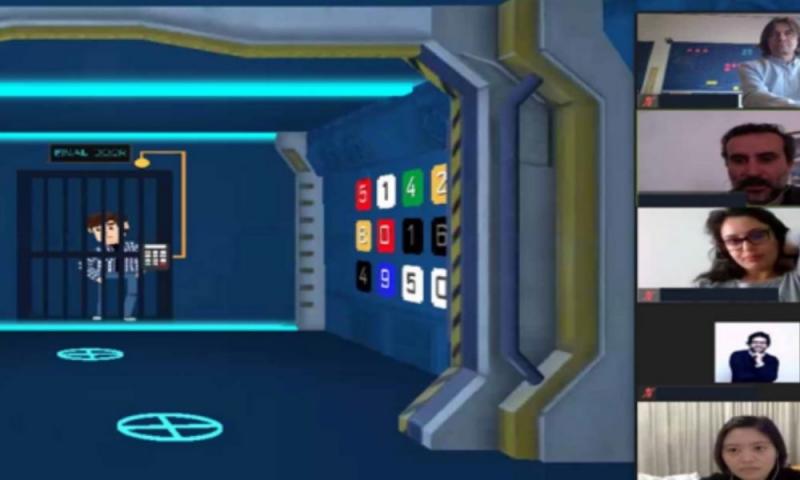 The Infinite Loop Remote: Teams work virtually to rescue a man who's trapped in the virtual world. They must work quickly as the timer counts down, can your team rescue the man and secure the fastest time? There is a national leaderboard containing the UAE's best scores. Do you think you have what it takes? This activity is based around real-time collaboration and communication, as your team is tasked with travelling back and forth between the virtual and synthetic worlds, finding clues that will help the prisoner return to the real world. Teams need to solve puzzles and never lose their cool.
BlockBusters Remote: BlockBusters Remote challenges participants to communicate effectively, work together and be as creative as possible, to translate their company's business messages into dynamic, attention-grabbing movie trailers. This activity puts teams out of their comfort zones as they are challenged to come up with scripts, storyboard and film their individual videos for the trailer. Each team must demonstrate forethought, planning and expert execution to make their storyboard relevant to the theme.
Chain Reaction Remote: Chain Reaction Remote challenges teams to work together and plan, construct and film individual office/homemade chain reactions and combine it virtually to see their planning and concept come to life in a mass chain reaction film. This activity is designed to increase employee engagement and bond teams who are working virtually. The main skills that need to be utilised are creative thinking, ingenuity and resourcefulness to create a working contraption that wows your team.
2. Team Building Activities To Improve Collaboration
Check out these team engagement activities that would help you bridge silos and improve collaboration within the teams.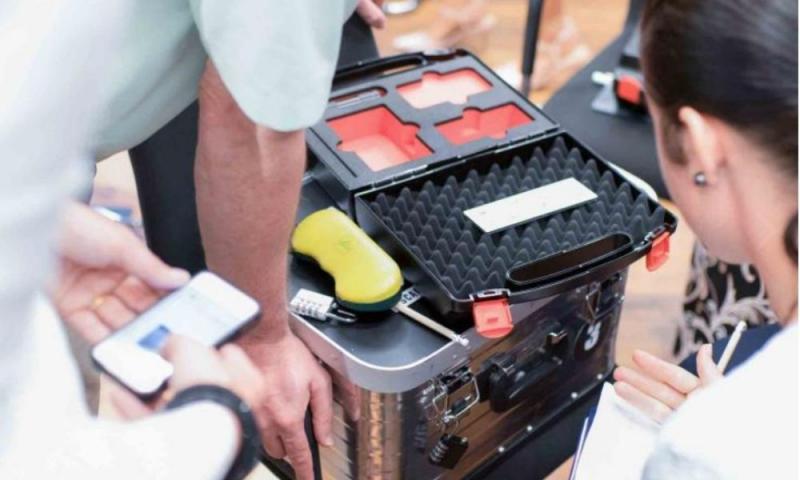 3. Unique and Innovative Team Building Activities
Below are some of the most innovative and unique team building activities that your teams will surely love.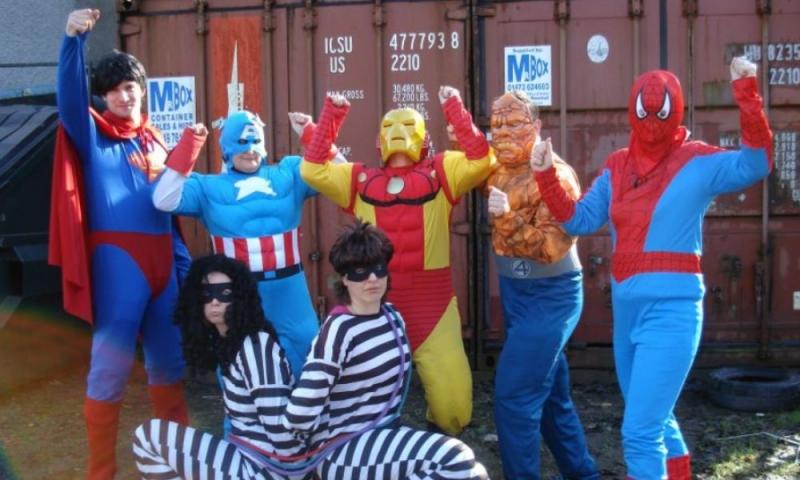 4. Team Building Activities To Improve Leadership Skills
Develop leadership skills in your individuals and teams in a fun and engaging way. These team building activities will encourage teams to develop ownership, accountability, and critical leadership skills.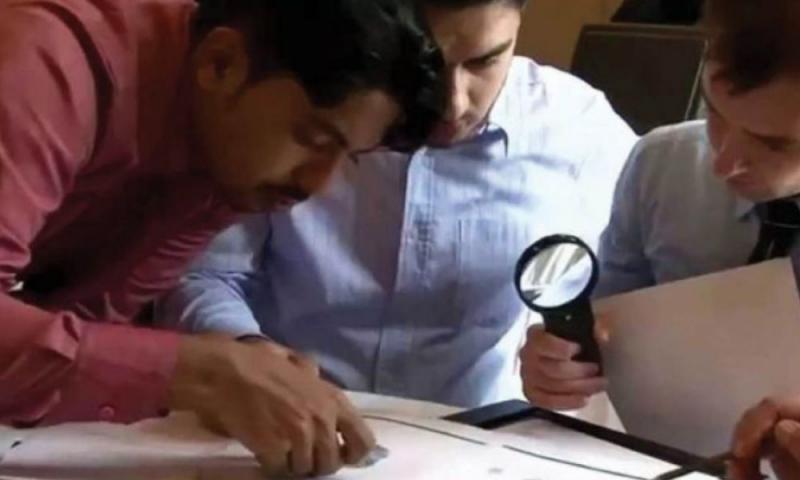 The Infinite Loop: Ready for a rescue mission? In this virtual reality team building activity, players exchange roles in the real world to save a young man trapped in the virtual world. Based around real-time collaboration and communication, your team is tasked with travelling back and forth between the virtual and synthetic worlds, finding clues that will help the prisoner return to the real world.
CSI: Aspiring detectives, your time has arrived! Lead your team as they attempt to decipher a series of puzzles and solve a murder mystery! Teams analyse a realistic crime scenario and scrutinise all the evidence in this fascinating team building exercise. Will they have the skills to solve the multi-layered puzzles and successfully identify the killer?
Escape the Island: How are your basic survival skills? Can your team survive the island long enough to be rescued? Participating teams are stranded on an island and must successfully pass through nine testing zones and challenges before signalling a passing ship to be rescued!
Goall!! Rise to the top level of the world's most popular game as you manage your own football club! Strategy and sound leadership are critical as teams turn their hand to everything from marketing and sponsorship to training players and penalty shootouts. This incredibly enjoyable corporate team building activity will get everyone onside.
Sky's the Limit: Ready to build your own Burj Khalifa? See who can design and build the tallest structure! A fun and fast-paced activity where teams compete to see who can build the tallest structure in just twenty minutes!
5. Team Building Activities To Improve Communication
Here's a list of our top team building activities specifically designed to improve communication and encourage open dialogue.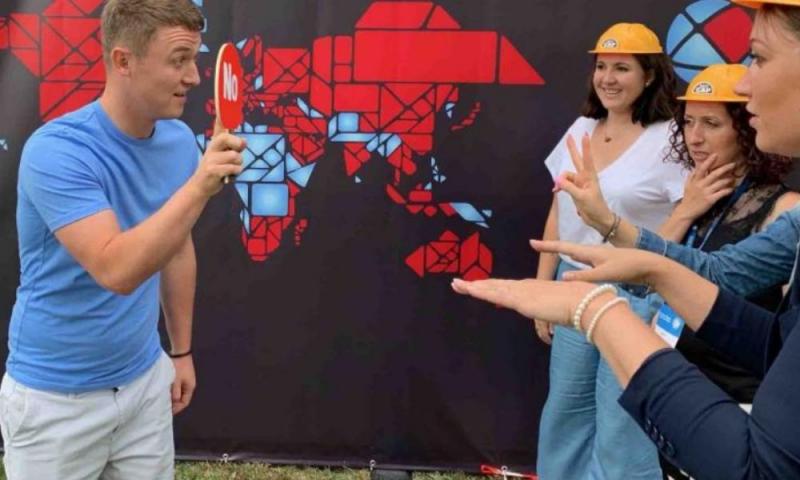 6. Team Building Activities To Promote Creative Thinking
Get your creative juices flowing with our wide range of team building activities that promote creative thinking.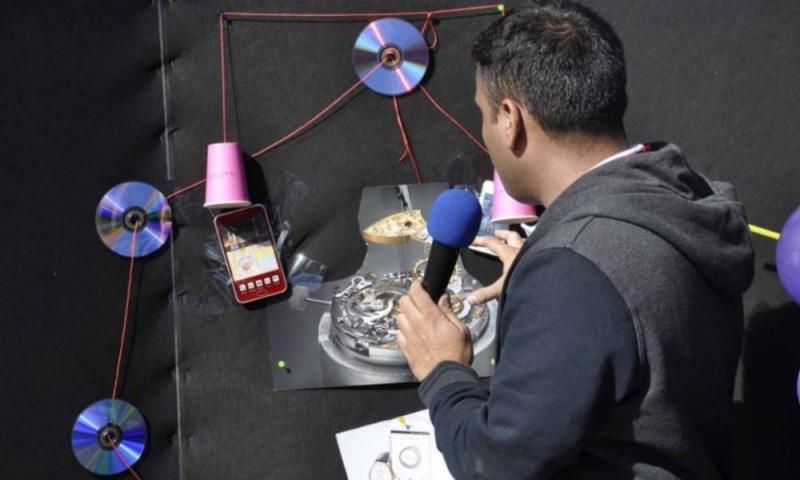 The Domino Effect: Time to get creative and design a giant Domino masterpiece! Who will have the steadier hand? The greater ideas for creativity and innovation? Will your team be able to ensure that every element is going to work? Your team is tasked with creating a Domino masterpiece of epic proportions!
The Perfect Fit: Ever used conference themes and corporate messages to create a giant jigsaw? No? Not surprising….but Perfect Fit has you doing just that, and it's a whole lot of fun. Participating teams create a bespoke design based on conference themes and corporate messages and then cleverly craft them into a complicated jigsaw puzzle. This fun team building activity is the perfect icebreaker that will get everyone thinking and stimulate open discussion.
Travel Show: Everyone loves a travel documentary, right? In Travel Show you get to film a mini travel doc of your very own! They say travel show hosts have the best job in the world… are your people ready to take on that role in one of the most exciting location-based team building events yet? In this much-loved team building activity, participating teams research a destination, create a script, rehearse, and then film their own documentary.
Out of the Box: Time to get that creative mindset going on by designing an innovative display Out of the Box is an ingenious way to generate fresh ideas and stimulate open and frank discussion as participating teams create a unique collaborative design that represents their views on a specific subject.
Quickfire - Soccer: Calling all the undiscovered Lionel Messi clones out there! Use creativity and ingenuity to complete mental, physical and creative soccer challenges! A competitive app-based team building extravaganza designed to get everybody on the side and have maximum fun. Teams must work effectively together to weigh up risk and reward. A lot of laughs are guaranteed and teams will finish the game with a feeling of exhilaration and a sense of togetherness.
7. Team Building Activities To Build Problem-solving Skills
Here are our team building activities that help teams and individuals develop problem-solving skills.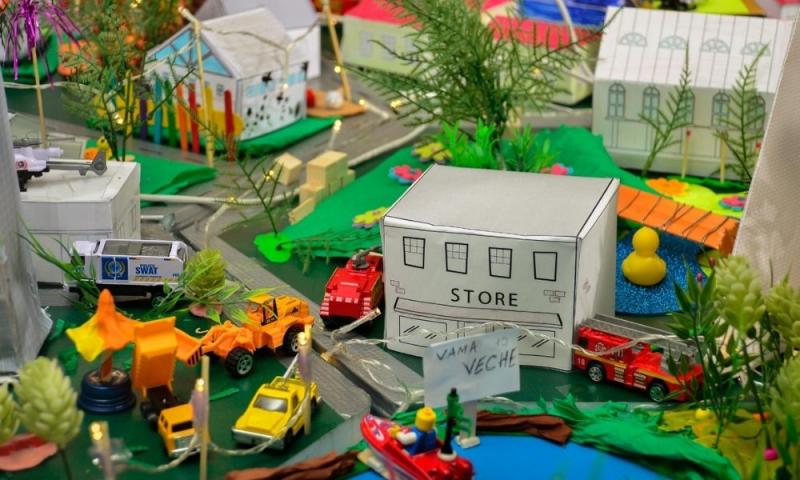 8. Team Bonding Team Building Activities
The ultimate objective of a team building activity is to promote bonding and develop camaraderie within teams. This selection of team engagement activity will help you achieve just that!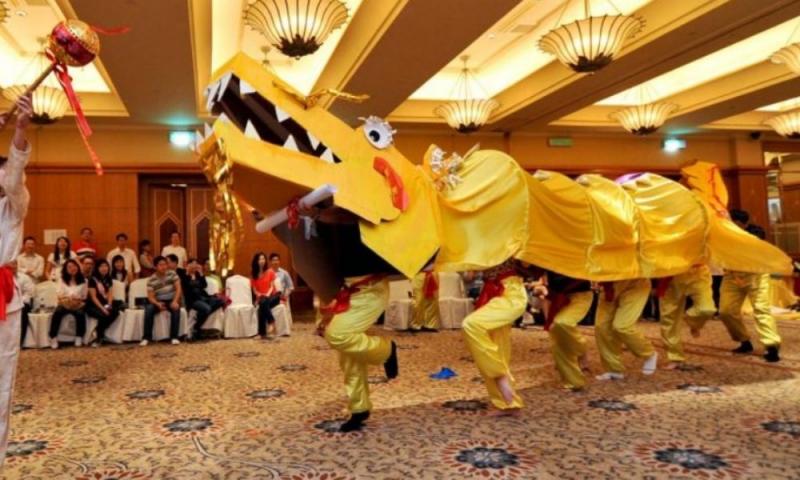 Robot Revolution: Time to get inventive as your team build robots and code them to complete collaborative tasks! In this thoroughly engaging and enriching learning process, teams represent a group of research scientists tasked with building and programming a prototype robot capable of changing the world!
Discovery Challenge: Take an exciting and mysterious adventure through fascinating locations! In Discovery Challenge, teams rotate around a series of waypoints guided by the Go Team app. At each destination, there is a challenge or puzzle to solve that draws on the history, culture and landmarks of the city. This innovative team building activity generates a strong spirit of teamwork, competition and fun.
Dragon Squad: You're on fire! Get creative as your team designs and constructs a Chinese dragon before performing a dragon dance!
Once participating teams have constructed their unique Chinese dragon, they collaborate to choreograph and perform a coordinated dragon dance.
Great Big Game Show: We've all seen game shows on TV and have a few we secretly love…..well now you can be in one! Participating teams put their general knowledge on the line as they compete against each other in this high energy ice breaker. A huge variety of subjects are covered in the questions so everyone will be able to enjoy and contribute.
How the West Was Won: Hey there cowboy or cowgirl, it's time to strap on those spurs and take a trip back in time to the Wild West! A hugely popular team building activity spectacularly themed around the pioneering families of the old Wild West! Set in Dodge City in the 1860s, How the West Was Won is an action-packed challenge where each team of delegates represent a ranching family.
If you are looking to engage your team and participate in a fun, energising and unforgettable Teambuilding experience, please do get in touch with us here.